Fortune Coins Promotions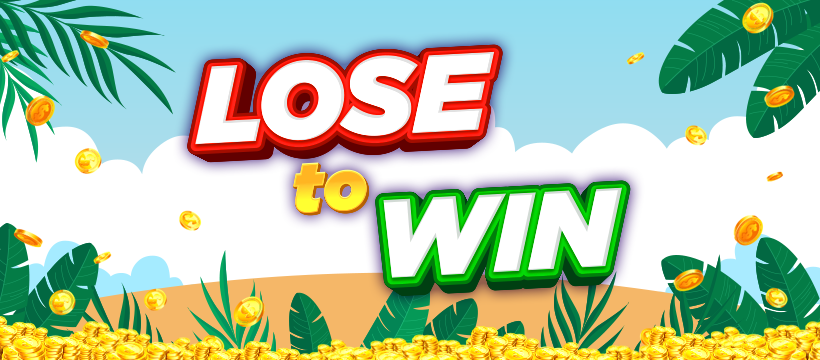 Lose To Win
Overview Get excited for a chance to win an incredible 75x your average play size!…
Learn More
While all these features and qualities are important to our players, it's no secret that one of the first things that attract people to our website is our daily bonuses and promotions. Wouldn't you like to receive free coins to play? At Fortune Coins, there are loads of ways to snatch a good promo. This page is aimed at players who want to know all about promotions on Fortune Coins. Feel free to follow our social media, email newsletters, and check out this page to learn more about events, offers, promotions, and promo codes.…
Fortune Coins Promo
Playing in a sweepstakes casino does not require you to make a purchase. Each day you log in, you'll get to claim a certain number of coins to play with. Fortune Coins has got you covered with more coins in your balance via exciting bonuses and promotions. Fortune Coins members receive exciting bonuses, including a sign-up bonus, a daily bonus, and a bonus that becomes available once you verify your email address and phone number. Simply register and claim your bonuses today!
Beyond the registration bonus, Fortune Coins offers plenty of promotions to take advantage of! We will reward you if you refer a friend to Fortune Coins. Once registration is complete, both you and your friend will become eligible to claim GC and FC. Then there's the Mystery Bonus, Double Mystery Bonus, Fortune Star Bonus, New Game bonuses, Facebook Connect Bonus, and more.
Play enough games and you can become the next 'Fortune Star of the Month' via Fortune Coins program.
How To Use The Fortune Coins Welcome Bonus?
Claiming your Fortune Coins welcome promo is as easy as it sounds. It takes seconds to complete the registration process and start playing. Follow these steps:
Go to the Fortune Coins homepage and click the Sign Up button.
Type in your email address and choose a strong password.
When prompted, click on the buttons to collect your welcome rewards.
Go to your inbox to verify your email and proceed to log in.
Your GC and FC amounts resulting from the bonus should appear in your balance at the top.
Note that all Fortune Coins (whether you acquired them through a bonus or otherwise) must be played at least once to become redeemable. Every 100 Fortune Coins you redeem equals $1.
The Best Way To Use The Fortune Coins No Deposit Bonus
Fortune Coins Casino offers an engaging gaming experience for players in the United States, with its unique business model. Fortune Coins Casino is a social casino with sweepstakes, where players use the in-game virtual currencies to access their favorite casino-style games for free and potentially redeem cool prizes. 
Among Fortune Coins' key attractions is its generous bonuses and promotions. New players are in for a treat with Fortune Coins enticing a no-deposit offer. Upon signing up, players can log in from the official website to unlock a fantastic bonus package. This bonus requires no purchase, so you can get right into the action without spending a penny.
With Fortune Coins, players have ample opportunities to earn free coins, both Gold Coins and Fortune Coins. Gold Coins are essentially like play money, you can use them to play any of the games in the lobby, however, they are not convertible to real prizes. On the other hand, Fortune Coins, or FC, have monetary value and can be redeemed for real prizes. These Fortune Coins can be acquired through various means, including daily logins, referrals, and participation in the rewards program.
Fortune Coins Casino No Deposit Bonus Code
Navigating the Fortune Coins no deposit bonus is straightforward. Simply follow these steps: click on one of the provided links, tap the register button, and choose to sign up using either your email. Complete the registration process, and you'll get the no-purchase bonus. To claim the first-purchase offer, select one of the available purchase methods and buy your first batch of Gold Coins. Fortune Coins will promptly reward you with your purchase bonus.
There is no doubt that Fortune Coins' no-deposit bonus is one of the most versatile around. Unlike some online casinos, the Social Casino Fortune Coins places no restrictions on the games you can play with the bonus. You have the freedom to explore over 250 casino-style games on the platform, providing an excellent opportunity to discover titles that resonate with your gaming preferences. Whether you're a fan of classic table games, video slots, or fish games, this free bonus enables you to sample various opportunities, helping you identify your favorites.
It's also worth noting that Fortune Coins' accessibility extends to a broad range of states in the United States, making it an excellent choice for players from most regions. With the exception of Washington State, players from 48 different states can easily register at Fortune Coins and claim the welcome offer immediately. 
Before diving into the exciting world of Fortune Coins bonuses and promotions, it's essential to familiarize yourself with the terms and conditions associated with these offers. 
How Ae FC Different From GC?
Like all sweepstake casinos, Fortune Coins has two types of virtual currency — GC (Gold Coins) and our signature FC (Fortune Coins). You can change the type of coins you're playing with by hitting the GC and FC icons at the top of your screen. This will also open a window where you can see your GC balance and three FC balances, including Redeemable, Points, and Bonus.
Gold Coins carry no monetary value. They are the currency you use to play for fun. Changes in your GC balance won't affect your FC balance and vice versa. Meanwhile, Fortune Coins can be redeemed for real prizes, contingent on playing with them enough and having a sufficient FC balance
Namely, all FC you receive (either as a bonus or on top of your GC purchase) must be played through at least once. The amount of FC you are eligible to redeem appears under Redeemable Balance.
Fortune Coins is always free to play, as we'll give you access to daily rewards and a variety of other promotions that you can claim for free.
Where Can I Find The Sweeps Rules, Terms, And Conditions?
Before you join Fortune Coins, you should get acquainted with all of our rules, as detailed on the sweeps rules and terms and conditions pages.
It's advised that you thoroughly read through these pages and agree to our policies before joining. Here are some essential rules and terms that relate to promotions and more:
To play any of our games, you must first create an account by sharing your email address. You are not allowed to operate multiple Fortune Coins accounts.
No purchase is necessary to obtain Fortune Coins or Gold Coins. You can always get more coins through daily bonuses and other promos.
To use our services, you must be of legal age (18+ in the US, 19+ in Canada) and reside in a region where we are permitted to operate. You cannot use your account through a VPN to circumvent geo-restriction rules.
When attempting to redeem prizes, we may require certain verification documents from you, including proof of income, a copy of a photo ID, proof of residence, bank statements, or more.
The Fortune Coins credited to your account via a promotion may come with a separate set of terms and conditions that differ from the general terms. Always read through the terms and conditions for a specific promotion before claiming it.
You can receive up to 500 Fortune Coins by sending in a handwritten request by mail.
If you are in breach of any rules, terms, and conditions, we may elect to terminate your account or prevent you from redeeming any Fortune Coins.
Again, these are just some of the highlighted T&Cs that you should keep in mind while playing at Fortune Coins, but we again advise you to carefully read the rules and terms and conditions pages so you are familiar with all of our policies and guidelines.
Fortune Coins: No Deposit Bonus Code
There are no bonus codes required to claim the welcome bonus or any of the other regular promotions at Fortune Coins. Additionally, You don't need to purchase to get a bonus and have your balance filled with Gold Coins and Fortune Coins.
At Fortune Coins, you can always play for free, all while having a chance to win real prizes. All you need is a few lucky plays on our free casino-style slots with free coins, and if you meet the FC playthrough requirements, you'll be eligible to redeem your prize.
Take Advantage Of The Fortune Coins Offers
All bonuses we offer are optional to collect. In the same way, you are not obligated to make a purchase, you are free to not collect free FC and GC from one of our bonuses. However, there's no reason not to take advantage of an offer at Fortune Coins. Here are some of the benefits:
The bonuses and promotions on Fortune Coins are 100% free. You won't ever be persuaded into making a purchase just to receive a bonus.
Fortune Coins bonuses will boost your FC balance, giving you a better shot at winning enough FC to redeem for real prizes.
Even if you spend all of your FC, our bonuses always come with GC, meaning you can enjoy extended free play time.
You don't need to jump through any hoops to unlock an offer. Claiming a bonus on Fortune Coins is as easy as hitting the Collect button or doing simple things like logging in to your Facebook account, verifying your mobile phone number, or sending a referral link to another person.
There's never a shortage of bonuses at Fortune Coins. From welcome deals to daily offers, you'll always have the chance to claim a free reward on our website.
Fortune Coins: Offers & Review
Numerous players have designated us as the best social casino across the United States and Canada. Our player base has been rapidly growing since day one, attributing a lot of our success to our attractive and incentivizing promos.
Nearly 20,000 people have followed Fortune Coins on Facebook, while 200 have left largely positive reviews about our social casino. If you join Fortune Coins on FB, you'll be the first to know about any future deals, the introduction of new games, special contests and giveaways, big winners, and all important information about Fortune Coins.
Liking and following our FB page will also let you in on what people are saying about our casino. At Fortune Coins, we believe in full transparency and honest reviews; as a result, we do not censor any comments, which allows you, as the user, to have greater confidence when signing up. You'll also find that other posts about Fortune Coins on the internet have been overwhelmingly positive.
You don't have a Facebook account? We suggest you create one. This is not just so you can like and follow Fortune Coins, but also because there's a special bonus you can receive from us for merely logging into your Facebook account. It costs nothing, and you will receive a juicy prize. You can also follow Fortune Coins on Instagram, Twitter, LinkedIn, and other social networks.
Fortune Coins: Free Bonuses and Promotions
You can use your Fortune Coin bonuses on all of our games. This includes over 150 free casino-style games with free coins and a few other types of games, including Jacks or Better, War, Joker Poker, Candy Keno, Wheel of Luck, and our exclusive fish game called Emily's Treasure. Some of our most popular slots include Lucky Panda, Blender Blitz, Hot Triple Sevens, Money Train 3, Candy Dreams Sweet Planet, and Irish Weekend, to name a few.
Our games come from some of the most renowned studios in the business, such as Relax Gaming, Evoplay, Mascot, and others. In the beginning, we only had a few dozen games, but our library quickly grew to feature over 150 titles, and we plan on adding new games to our collection weekly.
Before you load any game, decide whether you want to play with Gold Coins or Fortune Coins. You can toggle between these two currencies by clicking the icons at the top. If you wish to change the currency at any moment during your gameplay, you can do so but take caution that the game will restart.
Our free promos allow you to play several rounds (at least) of your favorite free coin slot or card game. If you take advantage of all bonuses a new player is eligible for, you'll have a few hundred Fortune Coins in your balance, and with a starting minimum coin limit of 30 FC for most games, that's enough for quite a few plays. It only takes a few lucky spins to increase your bankroll multifold, and before you know it, you will become eligible to redeem your Fortune Coins for a real prize.
Fortune Coins Registration: Guide
We've made it incredibly simple for users to register at Fortune Coins. We don't require any of your data such as your name or date of birth to register, although note that you should be at least 18 years of age if you're in the United States and 19 if you're coming from Canada.
Once you arrive at our website, hit the Sign Up button at the top. You'll see two ways of registering:
Sign up via Facebook
Register using your email address
If you choose the Facebook sign-up option, you'll see a window pop up requesting your Facebook login information. If you prefer signing up with your email, simply type in your email address and a desired password. In both cases, you'll need to tick the boxes claiming that you agree with the Fortune Coins terms and conditions and privacy policy. We suggest you read through these pages before creating an account, so you understand our rules and know what information we collect.
Please be aware that you won't be able to play any of our games before you complete the registration. Even though our games can be played for free, we require everyone to create an account before playing for fun.
Introducing the Fortune Coins Bonus
No Fortune promo code is required! When you sign up, enjoy one of two amazing welcome bonuses and always play for free. Opt for the standard mode and receive up to 500 coins as a bonus, or follow all our rules and verify your Facebook accounts, email, and SMS for up to 1000 FC equivalent to a $10 free play bonus.
Once you have successfully created your account, you'll receive an email from us. Open the message and click the provided link to verify your email address. From there, you can start claiming your first set of bonuses. As a new player, you'll be eligible for a few promotions, including:
Registration bonus — A bonus reserved for every new account holder.
Facebook Connect bonus — You will receive this bonus automatically if you sign up via Facebook. However, you can claim the prize even if you registered with an email. Simply go to the Coin Store, click Collect on the FB Connect offer, and log in to your Facebook account to claim the reward.
Daily bonus — This bonus will be available every new day you play on Fortune Coins, including your first day on the website. Merely log in every day after midnight to gain access to this recurring promo.
Phone Verification bonus — confirm your phone number with us, and we will throw in another nice bonus to bump your FC balance.
Friend Referral bonus — As soon as you register, you can begin inviting friends to Fortune Coins. Send a referral link to any friend via email, Facebook, or WhatsApp, and you'll receive a bonus once they register and make their first purchase. They will also get a reward after completing a purchase but know that you are not required to make a purchase yourself.
These are just a few bonuses you may receive after registering at Fortune Coins. There are many other ways to get FREE bonuses, like claiming a mystery bonus or various personalized perks with the Fortune Star of the Month Program – our version of being a VIP.
While we don't require you to give us your name or other identification details upon registration, we may require it afterward. Namely, once you request a prize redemption, we may ask for a copy of your ID, proof of residency, proof of income, and a bank statement.
Additional Rewards — Daily Prizes Await
Every day upon logging in, you will gain access to another daily bonus. With our daily promotion, you can keep playing on Fortune Coins every day without ever having to buy coins. Even if you don't plan on playing that day, you can still claim your daily reward by logging in and collecting it.
Every once in a while, you may also get a mystery bonus on top of the daily prize. This bonus will show up occasionally in your account for no reason at all, and the size of the mystery bonus is…well…let that remain a mystery.
FAQ
Do Fortune Coins Have a Welcome Bonus?
Yes, Fortune Coins features a registration bonus you can claim as soon as you join the website. Sign up using your Facebook account or email, and collect a registration bonus of Gold Coins and free Fortune Coins.
Do I Have To Make a Purchase To Claim a Welcome Bonus?
You don't need to purchase Fortune Coins ever, and this includes claiming most of the bonuses including the registration bonus, mobile verification bonus, FB connect bonus, daily bonus, and mystery bonus.
Can I Purchase a Bonus?
You can make purchases at Fortune Coins via the Coin Store. Once you buy Gold Coins, you will receive a certain number of Fortune Coins for free. However, most of the bonuses at our social casino are free, and you do not have to complete a purchase to obtain them.
Are There Any Daily Bonuses?
Yes, we have daily bonuses that await you every 24 hours. As soon as the new day begins by Eastern time, a daily reward will be available upon your next login. Occasionally, you may receive a mystery bonus on top of your daily prize.
What's The Difference Between FC and GC?
Fortune Coins are our signature sweeps coins. You can use them to play for free and later redeem them for real prizes, assuming you completed the playthrough and have the minimum balance needed for redemption. Meanwhile, Gold Coins are just for free play and can't be redeemed into cash prizes. When you buy or receive Gold Coins via purchase or promotion, you will always get Fortune Coins as a bonus.
How Much Do I Need To Play With The Bonus To Redeem a Prize?
You must play through your Fortune Coins at least once before being eligible for prize redemption. However, note that specific no-limit coins promo codes may have additional terms and conditions, so make sure to always understand the rules before using any offer.
Are There Any Game Restrictions Concerning Bonuses?
No. You may play any game at Fortune Coins with any bonus you claim, including video slots, card games, and all other games.
Does Fortune Coins Have a Loyalty Program?
Fortune Coins features an invitation-only loyalty program with benefits such as bonuses, a personal account manager, and special gifts. Whether you get invited to become a member depends on your in-game activity.
I Can't Seem To Claim a Bonus. What should I do?
If you're having trouble claiming a bonus at Fortune Coins, please contact our support team by going to the Contact Us page and submitting a contact form. We'll look to solve the issue and help you enjoy your bonus as soon as possible.
Becoming a Fortune Star of the Month Player
The program works on an invitation-only basis, and you'll get asked to join based on your in-game activity. Safe to say that the more you play, the greater your probability of receiving an exclusive invite
Being a Fortune Star Player comes with some great perks and rewards, including:
Fortune Star status welcome bonus;
Personal account manager;
Personalized weekly and monthly deals;
Weekly rakeback;
Reward Bonus;
Birthday and anniversary gifts.